2019 Grand Final Winner
Emma Jenkins is Miss Universe Great Britain 2019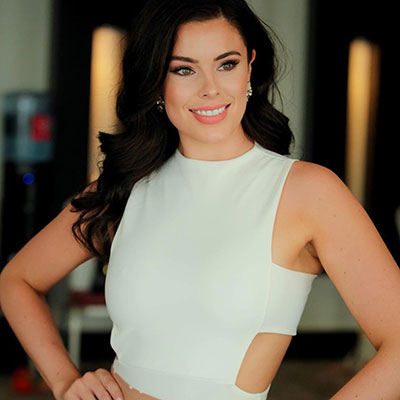 Twenty-six-year-old, Emma Jenkins, from Llanelli in South Wales is Miss Universe Great Britain 2019.
Emma is a freelance TV presenter and make-up artist working for a number of organisations including the Welsh national broadcaster, S4C. Emma speaks the Welsh language fluently and is an ambassador for Women's Aid. Emma was one of 33 contestants who took to the stage to compete for the Miss Universe GB crown at The Riverfront in Newport in July 2019.
The competition - which was sponsored by Cara Jewellers Dubai, Doyen Style, Renova Clinic and Just Boutique – supported the not-for-profit organisation www.a-sisterhood.org.uk which helps female charities both in the UK and overseas. In the run up to the final the contestants raised more than £20,000 for a number of female related causes including Llamau, a charity which helps homeless women in Wales; the National FGM Centre which is working to end female genital mutilation in the UK, Stop Acid Attacks in India which helps women who have survived acid crime and also The Black Mambas which is South Africa's first all-female anti-poaching unit protecting the rhino.
The highlight of Emma's year will undoubtedly be the trip to take part in Miss Universe 2019 for several weeks at an exotic location overseas.
Apply for Miss Universe GB 2020!