10th June 2013
Amy Willerton wins Miss Universe GB 2013
Twenty-year-old Amy Willerton from Bristol has been crowned Miss Universe Great Britain 2013 Amy, a full time model and presenter, is best known for winning 'Signed By Katie Price' back in 2011.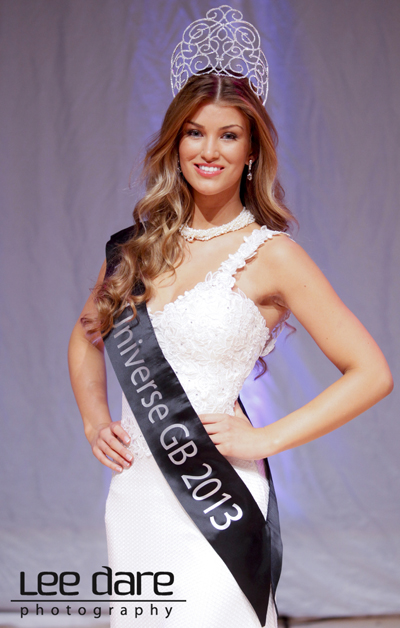 She took the title on Saturday night at Town Hall in Birmingham and will now go on to represent Great Britain at Donald Trump's Miss Universe® final overseas later this year.
Twenty two young women from across Great Britain competed took part in an interview with judges as well as three catwalk rounds in a bid to win the crown in front of a panel of six judges from the beauty and fashion industry. See the Grand Final weekend in pictures »
Amy will now prepare for a year of adventure, which will include visiting America for dress fittings with MacDuggal collections and a personal appearance in Morocco with competition sponsors, The Sunstar Group. She will also appear at a charity fundraiser for the army to support soldiers returning from Afghanistan.
Amy said: "I have worked extremely hard for the British final but I realise I have to go up another level to compete at Miss Universe. To have the opportunity to work with the Trump team in New York is absolutely fantastic – it's not something that comes along every day. I don't underestimate the challenge ahead but I'm really, really looking forward to it."
The runners up were Roxy Osborne and Maisie Lake – both from Norfolk.
The competition supported Strongbones Children's Charitable Trust, which provides help and support for children who have diseases of the bone.
Other prizes awarded at the final were Best Hair, sponsored by Urban Elegance which went to Roxy Osborne; Best Skin, announced by official dermatologist to Miss Universe Great Britain Dr Juliano Creama, which also went to Roxy; Miss Congeniality, sponsored by Sunstar Group, which was won by Suma Subhan from Newport; Miss Charity which went to Rebecca Richardson from North Walsham; People's Choice (winner of the public vote) which was won by Amy Willerton; and the NOT IN VAIN award presented by the national directors of Miss Universe Great Britain which went to Nadina Knight from Northampton.
National director of Miss Universe Great Britain, Paula Abbandonato, said: "I'd like to congratulate all the young women who took part in the final this weekend - they all did themselves proud. We are delighted with Amy as our new titleholder and are thrilled with the great response she is receiving from the online pageant community around the world. We have very high hopes for her at Miss Universe and believe that with the right preparation and support she really has a chance of brining the Universe crown back to Britain for the first time ever."
If you would like to carry the title and wear the crown, then apply now for Miss Universe Great Britain 2014. A series of regional heats are taking place across the country. If there isn't a heat in your area, don't worry you can still apply, and Vibe will consider you for the 'catch all' qualifiers.
Miss Universe is one of the most prestigious beauty pageants in the world. For an idea of what's in store for our next winner, take a look at the Miss Universe official website www.missuniverse.com.
Apply here if you'd like to take part in Miss Universe Great Britain »
Click here if you're interested in running a local heat of Miss Universe Great Britain »
Click here if you'd like your business associated with the pageant »